The fact is, email works. It has been proven again and again — when you want to persuade an audience, email marketing works best.
We will deliver your message for only $45 + 2¢ per email:

Pepin Internet Marketing is offering email services to help promote your message with effective email marketing.
Create Stunning Emails.

Help you with your message.

Fast, reliable delivery.

Track in Real Time.

Expertly Manage Your Lists.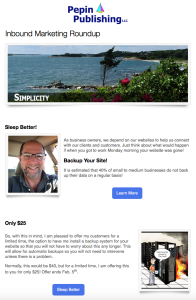 Contact us today for more information!